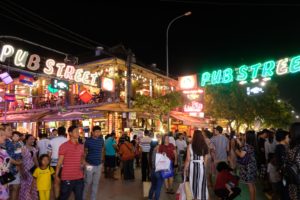 VTC Sales representative KJ Slater recently returned from his first ever visit to Cambodia. Experiencing all the highlights from Siem Reap to Phnom Penh, KJ was escorted by our very informative and friendly VTC local Cambodian guides who took him to experience sunrise at Angkor Wat, see the incredible stone faces at Angkor Thom and walk through the jungle temple at Ta Prohm, made famous by the tomb raider movie. The visit to Siem Reap was not complete without a visit to the famous Pub Street, home to the cheapest beer and incredible selection of both local and western food. KJ said 'From the moment I arrived in Siem Reap, it felt like you were a part of the family. The Cambodian people are some of, if not the friendliest people I have ever met. Everywhere you went, locals were happy to talk and were not pushy for a sale like you can encounter in other destinations'. When asked about any hot tips for Siem Reap, KJ said 'Sunrise is a must at Angkor Wat, but definitely get there early. Especially if you want to try to get that Instagram shot of the temple reflection in the water ponds'. He also encouraged visitors to consider seeing Angkor Wat at Sunset which gives a completely different experience. The culture and history is strong in the former capital and KJ was surprised to learn that the name Siem Reap actually translates to 'Siam Defeated here' which came from the successfully campaign from King Ang Chan to reclaim to former capital in the 1500's from Siam (Now Thailand).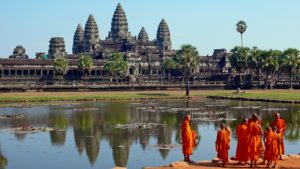 From Siem Reap it was onto the modern day capital Phnom Penh. The two cities are complete contrasts of each other with Siem Reap having (by law) no buildings taller than Angor Wat, where as Phnom Penh is a booming metropolis with tall buildings and bustling crowds. KJ said 'From the moment you arrive you feel the difference between the two cities. The hospitality and friendly nature of the Cambodians is still well and truly alive but you quickly find yourself having to adapt to a quicker pace and being around lots more people'. With our local guides in Phnom Penh, KJ went to experience a river cruise to visit a floating water village where the entire town has been built over the river with stilt type housing as well as the all important visit to the Tuol Sleng Genocide Museum (also known as the S21 Prison) located in the city itself and then onto the 'Killing Fields'. When asked about his visit to these sites KJ said 'It was such an emotional experience. To see the faces of only just a small percentage of those lost in the mass killings undertaken by the Khmer Rouge, really puts things into perspective. Its one thing to read or watch documentaries about it but to then be there in person, it really hits you hard that something so horrible could have happened not so long ago'. Our guide Mrs Sophy and driver Mr Lim, both shared their personal accounts of the Khmer Rouge regime with combined the both of them loosing over 150 family members, with many of their whereabouts still unknown. When we asked KJ about what he recommends about a visit to Phnom Penh he said 'Some people get nervous about visiting S21 and The Killing Fields but visiting these sites are more of way to pay respect to all those who lost their lives and recognise the atrocities so that they may never happen again. You can ask your guides to avoid showing you anything that may upset you so don't feel that it has to be a full on experience'. KJ also highly recommended a sunrise cruise on the Mekong and getting yourself to one of the many rooftop bars to enjoy a cocktail for sunset.
Vietnam Travel and Cruise has ready made suggested itineraries for Cambodia or talk to us about tailor making a trip to the beautiful destination and adding it to a visit to Vietnam or Laos!