There are many of Vietnamese sauces. Trying to tell which sauce is which among the vast variety is not much different from navigating a labyrinth. A few basics include shrimp paste, anchovy paste, and of course, the infamous fish sauce.
It hardly a complete Vietnamese meal without a small bowl of fish sauce in the center. With everyone having their individual portions and multiple courses but all using the same small fish sauce bowl, how you dip your delicious food in the sauce, in a way, is the measurement of one table mannerism. But do not worry, as long as you don't spill the sauce all over the table, or worse, on another person, the meal should be a fun experience.
Fish sauce has and will always play an important part not only in Vietnamese people's diet but also in life. The earliest historical record of The Complete Annual of Dai Viet dated fish sauce back to 997. During the Nguyen Dynasty of the 17th century, once recorded showed that fish sauce sometimes can be use as a replacement for the capitation tax to the imperial court. Just that show how highly regard this delicacy is to Vietnamese people, and it still does until this day.
The fish sauce itself has spawned a considerable number of sauce variations, acting as the base. Each region has sprinkled its own flair into the standard fish sauce to pair it with the local specialties. The North likes its sauce rich and redolent of lemongrass and calamondin to pair with their spring roll and freshwater shellfish. The Southerners stick with homely ingredients like gingers, minced garlic, and chopped chilies. The Central Vietnam way of finessing fish sauce includes boiling it with shrimp and finishing up with as much chilly as one can imagine warming up one body before every sea-faring trip. Meanwhile, fish sauce in West Vietnam is renowned for its godsent sweet and sour mix, which pair extremely well with freshly caught fishes. Sometimes, Vietnamese people also have fun with all sorts of vegetables to spice things up. People from the South usually go with pickled carrots and daikon, while those from the North enjoy a good handful of sliced green papayas.
Admittedly, the pungent smell can be a huge turn off if one is not familiar with it since birth but believe me, you will be missing out on a lot of Vietnamese culinary experience as it's the essential ingredient in many Vietnamese signature dishes such as Pho, banh cuon or Vietnamese style pancake, etc…  In many of those dishes, the fish dipping sauce could be the make or break factor.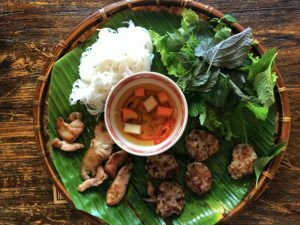 Social Share